Advanced Technology Academy Public Charter School District


---
Our Mission
To provide students with high-quality interdisciplinary learning experiences that challenge them academically and develop their problem-solving, critical thinking, and communication skills. By building strong local partnerships with businesses and higher education, Advanced Technology Academy and our Ford PAS BEAC encourage and prepare students for success in college and professional careers in fields such as business, engineering, and technology. —"High standards for high achievement."
The Advanced Technology Academy (ATA), is a Michigan public charter school district located in Dearborn, Michigan that offers a rigorous Pre K-12 educational program. ATA is an NCA accredited Academy that has met Michigan's standard of Adequate Yearly Progress (AYP).


ATA offers additional educational opportunities including:
-Platinum Implementation of the Ford Partnership for Advanced Studies Curriculum
-Study Abroad Program in conjunction with Ford PAS
-Free Robotics, Business and Health Exploration Camps at Lake Superior State University
-After-School Clubs
-National Honor Society
-Eco-Club
-Newspaper
-Chess
-Debate
-DECA
-Dance Club
-Business Professionals of America
-After-School Tutoring Programs for Grades 3-12
-ACT Preparatory Course
-Multiple Coordinated Learning Experiences
-U of M and U of D Mercy Ford PAS days
-The Henry Ford Museum and Rouge Tour
-Greenfield Village
-International Auto Show
-Detroit Economic Club
-Cultural Arts Museums


Why A Charter School?

Charter schools have the freedom to be innovative and to build effective learning programs from the ground up. As of December 2007, Michigan had 230 operating charter schools with an expected enrollment to exceed 100,000 students.
FREE TUITION
A charter school is a public school funded by the state and free to all students. The community-based school is operated by its own board independently of other public schools.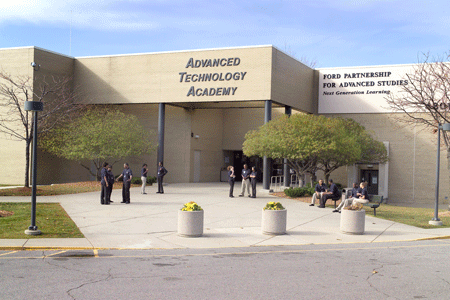 AIM HIGHER
ATA is authorized to deliver selected, pre-approved Davenport University Courses to qualified students under the supervision of Davenport University, and coordinated through the Office of the Provost. This program offers your child the ability to obtain college credits, saving your family thousands of dollars in college tuition.
CAREER READINESS
ATA has established a comprehensive ACT WorkKeys computer-based instructional program to help students qualify for the National Career Readiness Certificate.
The Ford Partnership for Advanced Studies (FordPAS) Curriculum
ATA centered its curriculum on the Michigan Department of Education requirements and the Ford Partnership for Advanced Studies, a program based upon project-based learning modules. Ford PAS provides students with high quality interdisciplinary learning experiences that challenge them academically and develop their problem-solving, critical thinking, and communication skills. By building strong local partnerships with business and higher education, Ford PAS encourages and prepares students for success in college and professional careers in fields such as business, engineering, health care and technology. The high school curriculum is designed to merge the last two years of high school with the first two years of college. At the conclusion of sophomore year, all students are required to choose one of four career pathways:
-Business
-Engineering
-Health Care
-Technology

The Ford PAS Modules
-From Concept to Consumer: Building a Foundation in Problem-Solving
-Media and Messages: Building a Foundation of Communication Skills
-People at Work: Building a Foundation of Research Skills
-Careers, Companies, and Communities
-We All Run on Energy
-Energy from the Sun: Biomass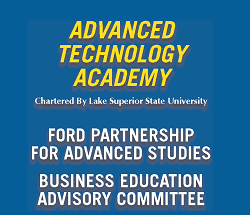 -Is Hydrogen a Solution?
-The Nuclear Revolution
-Energy for the Future
-Closing the Environmental Loop
-Planning for Efficiency
-Planning for Business Success
-Ensuring Quality
-From Data to Knowledge
-Reverse Engineering
-Different by Design
-The Wealth of NationsMarkets Without Borders
-Global Citizens
-Calculating Your Future; Personal Finance
Special Education
The Advanced Technology Academy's department of special education is committed to providing individualized educational programs for each student with disabilities through partnership and collaboration with parents, students, and school staff to provide a learning environment that allows all of our students with disabilities to reach their full potential and to help prepare them for success in life. Our supports and services are provided in the most inclusive and least restricted environment setting for our students with disabilities, which is the general education setting with their peers. All of the individualized education programs created and implemented at Advanced Technology Academy work in accordance with and adhere to the Individuals with Disabilities Education Act (IDEA), Section 504, and the Americans with Disabilities Act (ADA). More information at ATA's Special Education department's website
here.
---
Advanced Technology Academy Administration
Barry Hawthorne
Executive Director/ Chief Administrative Officer/CEO ATA Management Company
Mr. Hawthorne is responsible for management, operation, administration and education at the Academy.
Responsibilities include:
Implementation and administration of the educational program
Management of all personnel functions
Operation of the school building
All aspects of business administration
Provision of food service
Any other functions necessary for the administration of the Academy
B.S. Eastern Michigan University
Ford Academy of Manufacturing Sciences (FAMS) Certification
Ford Partnership for Advanced Studies (FPAS) Certification
Deputy Director, Michigan Department of Labor (19791983)
Executive Director, Wayne County Employment and Training Department
Wayne County Private Industry Corporation (19831987)
Acting Director, Michigan Employment Relations Commission (19801983)
MDSS Project Edge (19901992)
Steve Quinlan
Director of Institutional Advancement
-Bachelors of Science in Management from Grand Valley State University
-Masters of Science in Administration from Central Michigan University
-Certified Specialist in Planned Giving, California State University Long Beach
-Trustee, Henry Ford College Foundation
-Adjunct Faculty at Eastern Michigan University
-Consultant with Lake Suoerior State University Foundation

Kaye LaGreca
Chief Academic Officer
Master of Arts – Roosevelt University, Economics, Statistics
Post Degree Certification, University of Michigan, Mathematics
Bachelor of Arts – Michigan State University, Economics
State of Michigan Certification, EX, CA

Hannah Hawthorne M.Ed
Assistant Chief Administrative Officer
Assistant Chief Academic Officer
Master of Arts in Educational Leadership and Management
Master of Arts in Teaching, University of Michigan
Ford Next Generation Certificated
Michigan State Board Of Education Teacher Certificate
Michigan State Board Of Education Administrative Certificate
Bachelor of Arts Eastern Michigan University Language Arts, History

Carly Terns
Director of Human Resources

Renee Newton
Director of Safety and Truancy

Christopher Schultz
Athletic Director

Dan Addison
Building Maintenance Coordinator

Cynthia Andersen
Director of Career and College Readiness

Tim Johnson
Director of Special Education

Nora Thomas
Food Service Director

Joan Vroman
Assistant Registrar/Attendance Officer

Veritas Accounting
Accounting Firm




---
Advanced Technology Academy Board Of Directors

Kevin Ford

Marquis J. Scott

Steven Borich

Janice Gilliland

Ken Williams




Click on the event date in the calendar below for information on how to join our board meetings hosted by Google Meet.
All recordings and documents from previous board meetings available
here.
Next ATA Board Meeting date is TBD.
---
Adjunct Faculty
Cynthia Andersen - Business
-Bachelor of Science Madonna University
-Master of Science Eastern Michigan University
-State of Michigan Provisional Teacher Certificate
-American Management Association Certificate
-Ford Partnership for Advanced Studies (FPAS) Certification
-Vocational Certification State of Michigan

Sharon Bowman - Psychology
-Master of Arts, Eastern Michigan University
-Reading, Bachelor of Arts, Michigan State University
-English, Psychology State of Michigan Certification, BA, CE, BR

Mary Jo Ferguson – Physics, Engineering
-MS Civil Engineering, Wayne State
-BS Engineering, U of Illinois Chicago
-State of MI Certification: Secondary Math EX, Physics DE

James Nelson- Earth Science, Anatomy, Chemistry
-Master of Science, Wayne State University, Science State of Michigan Certification, DI

Eric Richardson – Computer Science
-B.A., Alma College, Physics. B.S., Alma College
-Mathematics, Natural Sciences, and Secondary Education. A.B.D., Ohio State University
-Biophysics. M.S.I.S, Baker College Center for Graduate Studies
-Professional Certifications: DX (Natural Sciences), DE (Physics), EX (Mathematics), grades 6-12

---
Charter Information
Lake Superior State University

American College Testing (ACT)

Ford Partnership For Advanced Studies

Michigan National Career Readiness Certificate (NCRC)

Michigan Association of Public School Academies

Michigan Department of Labor and Economic Growth

Michigan Center for Career and Technical Education

Michigan Charter School Partners

Michigan Department of Education

Wayne County Regional Education Service Agency

Henry Ford College

Davenport University